13th Young Composers Concert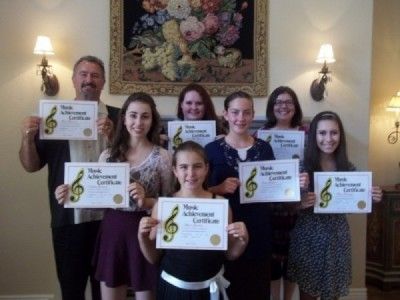 Original piano compositions were featured at the 13th Annual Young Composers Concert on Sunday, September 13th.  Piano students gave a concert of original compositions they wrote over the summer and vocal students also sang for this event.  The composers ranged in age from 9 to 17.  Montecito Oakmont Senior Living, Concord, hosted the event as part of their celebration of Grandparents Day.  After the concert, each participant was presented with a Certificate of Music Achievement.
 "This is our first year for hosting this annual event", stated Erinn Miller, Activities Director.  "The students are so talented and the residents enjoyed watching them perform their own compositions.  It was an added pleasure that some of the composers also sang. We hope they'll be able to return next year!"
"Watching the students learn about composition and then create their music is a thrill for me, stated Joan Miller.  "That's why it's my favorite concert of the year".  The participants played both classical and contemporary-styled pieces at the afternoon concert. 
Special mention was paid to Northgate Senior, Allison Bertolozzi, who has been composing 4 years. 
Participating in the concert were: Allison Bertolozzi, Allison Ghorban, Natalia Giovanni, Cassie Grayson and vocalists Kate Miller Brennan, Susan Broehm and Frank Giovanni.